May Newsletter 2022
Dear Valued Risk Insights™ TM / ESG GPS™ TM Subscriber,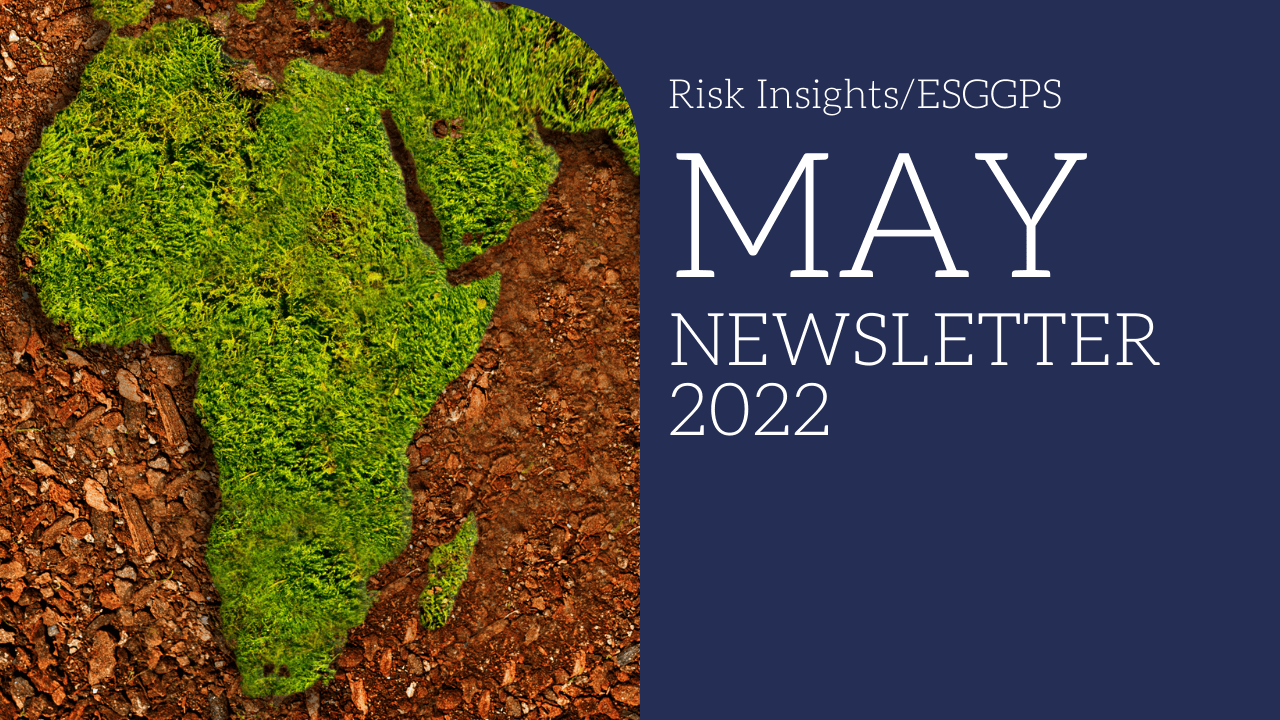 MAY NEWSLETTER 2022
Over the last few months, we have noticed our world's fragility. We have been facing existential challenges from various fronts.    At the same time, we hear strong voices from various part of the globe calling for the world to change to create more social cohesion, freedom, equal opportunities, respect towards our Planet, better leadership … to ensure a sustainable future for all.  
This month's Risk Insights™/ESG GPS™ monthly newsletter we share our contribution to sustainability... Risk Insights™ is an active contributor in educating, training and developing Africa on the importance of ESG as a tool to make the world better place for all.
Watch the space  in 2022 as Risk Insights™ introduces  new products as well as launching ESG GPS™ Ratings in multiple African countries and beyond.  For now, here are a few highlights about our May activities and upcoming events.
LAUNCH OF THE WORLD ECONOMIC FORUM NEW CHAMPIONS COMMUNITY LOCAL CHAPTER SOUTH AFRICA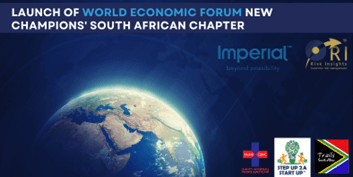 World Economic Forum New Champion companies are dynamic high-growth companies that are championing new business models, emerging technologies, and sustainable growth strategies in the Fourth Industrial Revolution. New Champions are mindful of their impact on society and aspire to participate in building a better future.
Risk Insights™ and Imperial partnered with the World Economic Forum to create the first New Champions Community Local Chapter South Africa. 
This Local Chapter aims to amplify the World Economic Forum global initiatives via supporting relevant country projects and ensure engagements of the South African business community to drive and accelerate impact on the ground. Risk Insights™ and Imperial have chosen three initial projects which focus on critical issues in South Africa such as: Health and Wellbeing, Education, Gender Equality, Innovation, Sustainable Infrastructure and Climate Action. Join us by pledging your support to three projects "Step Up to a Green Start Up," "Unjani Clinic" and "SA Trails Network" to create sustainable impact in South Africa.
ANNOUNCEMENT OF COLLABORATION BETWEEN OTCFIN AND RISK INSIGHTS™
Through Risk Insights™ and OTCFin collaboration OTC Fin has access to Risk Insights™' AI-powered ESG GPS™ platform of ESG rating products which seamlessly integrates with OTCFin's financial data to produce tailored and actionable reports for their potential mutual asset management clients globally. 
As the creator of the AI-powered ESG GPS™ model, Risk Insights™ will provide expert knowledge on ESG in Africa and contribute quantitative data analysis capability through its ESG GPS™ suite of products including ESG GPS™ ratings, ESG GPS™ X-Ray and ESG GPS™ Rating Watch. OTCFin provides financial data management, risk and regulatory reporting solutions and services and has helped sophisticated asset managers worldwide to tackle their data integration and reporting challenges across all asset classes and business needs.    Working together these companies will strengthen their collective suite of offerings for investment and risk managers looking to fully integrate ESG factors within their investment process.
To read more about his partnership, please visit us
HORASIS GLOBAL MEETING
Risk Insights™ was pleased to have its representatives Mr Andrey Bogdanov, Principal and Interim CEO, Risk Insights™ and Dr Blessing Ayemhere, Chairman of Nigeria IRC & Member of International IRC to participate at this year's Horasis Global Event "Toward a New Era of Peace and Sustainability".  Horasis provides a platform for cooperation and knowledge-sharing, particularly between developed countries and emerging markets. The community works principally through partnerships with corporations, governments, and international organizations, often serving as an incubator for new initiatives. These meetings rotate amongst host countries which stage the events, selected corporations supplement speeches and presentations about actual topics.
RISK INSIGHTS™ CEO AND HEAD OF DATA LAB ADDRESSED the ESG / IMPACT INVESTING & SUSTAINABLE FINANCE SUMMIT 2022 
Risk Insights™ executives Andrey Bogdanov and Dr Abuobayda Shabat presented at this year's 3rd annual Africa impact investing and sustainable finance summit between the 26th and 27th of May 2022.  They presented the use of AI and how it can assist addressing existential ESG crisis across the Globe.
The summit brought together key stakeholders in the impact investing and sustainable finance space with a key focus on Impact Investing, Sustainability, Green Finance and Climate change. Against the backdrop of COP26, the summit addressed critical and necessary interventions that investors will need to deploy towards achieving the UN sustainable development goals as well as to mitigate against climate related risks. 
Risk Insights™ along with UN Environments Dr Richard Munang; UN Principles for Responsible Investments Darron Scorgie ; African Agricultures Alan Kessler; Social Ratings Richard Wilson; IFCs Zano Mataruka; The Water Research Commissions Lesego Gaegane ; Data Act Labs Alexandra Silfverstople; Moirai Group (USA) Dr Sarah Murdock ; Cohension Collectives Dominic Gaobepe ; Mobility Africas Shanta Bloeman; Fezeke Stuurman; Nanine Wyma; 4Ips' Dr Christian Kingombe ; EBS Advisory James Brice ; Nation Dam Siltation Managements ; Director of Norsand Finance; Jason Lightfoot of Future Growth Investments Managers ; ESG Strategies Amy Ryan; The International Finance Corporations Kevin Njiraini, Susan M. Lund, Issa Faye and Neil Gregory; EBS Advisory's' James Brice; Martens Advisory's' Nicole Martens; Resilience Capital Ventures LLCs' Gillian Marcelle; Roy Gluckman of the Cohension Collection; Roberto Panzica European Commission Joint Research Centre; Hofstede Insights' Dr Okey Okere;  Rise impact Fund and Pathisa Fund's Deresh Lewangee; The Johannesburg Stock Exchanges' Nicola Comninos and Shameela Soobramoney; Sustainable and Responsible Investment Practices Angelique Kalam; ADIC's Ipolitu Mubiru; , Investment Manager at Frankfurt School Financial Services Michael Crayne; ShEquity, Impact Investors, Innovation Catalyst, AFRI prospects' Pauline Koelbl; Logos Capitals' Silvio Pupo Casco; and the Climate Policy Initiatives' Julio Lubianco and many more  addressed ESG / Impact Investing & Sustainable Finance Summit 2022.
RISK INSIGHTS™ CEO ADDRESSED THE 3RD ANNUAL AFRICA PENSIONS AND RETIREMENT SUMMIT 2022 
The Annual Africa Pensions & Retirement Summit is an annual Africa focused summit designed and produced to cover the African pensions industry. The summit, now in its third year, was hosted in different African countries such as Kenya and South Africa. The third installation of this continental showpiece was on the Island nation of Mauritius in May 2022. With a key focus and covering all key issues impacting the pensions and retirement industry on the continent, the summit brought together key stakeholders and industry professionals, regulators, policy makers, academics, researchers, trustees, principal officers, investment managers, asset and fund managers, actuaries, insurers, and other financial services intermediaries from across the African continent. 
Risk Insights™ was pleased to address ESG in Africa – Risks and Opportunities
MINING INDABA 2022
One of the key risks and opportunities discussed at Mining Indaba 2022 was ESG.   Mining industry continues to show its firm commitment to Environmental, Governance and Social principals.  ESG risks are critical in mining... ESG GPS™ is the perfect tool to navigate disclosure of emissions, water consumption, social and governance issues, community relations and many more. Risk Insights™ has paved the way towards sustainability with Africa's first machine learning and Artificial Intelligence powered ESG sustainability rating tool – ESG GPS™. So far ESG GPS™ which has rated all listed mining companies in South Africa, Nigeria and Kenya. We were very pleased to be interviewed by Mining Business Africa as the leading provider of the ESG ratings in Africa and other valuable ESG information in the industry for Mining Indaba 2022.
To read Risk Insights™ full article from Mining Business Africa visit us.
"DID YOU KNOW"
Risk Insights™ strategic business intelligence tool ESG GPS™ X-Ray reports the ESG related materiality factors disclosed by companies listed on the Johannesburg Stock Exchange.  Rapidly shedding intelligent factors disclosed by these listed companies and interpreting these factors into bite sized facts in our "Did You Know" posts...
This Month we launched our latest Nigerian "Did You Know" with data from companies listed with the  Nigerian Exchange Group.  Construction & Real Estate, Agriculture, Financial.
Watch the space for more information about materiality factors of the industries and companies from South Africa, Nigeria, Kenya... 
WINDOW ON THE WEEK SEASON 4
This month on window on the week, we had Andrey Bogdanov to say a few words regarding impact that the current humanitarian crises we face and how ESG solutions can pave a way for a better tomorrow.  We also had Matshidiso Motsomongwe and Kunaal Kalyan return as they dialogued the importance of Social Inclusivity and the risks that Global Leadership faces.
In case you missed … to watch this month's Window on the Week Episodes, click on the pictures below or head over to our ESG GPS YouTube Channel