Nedbank again outperforms peers for ESG disclosure in 2020
…Risk Insights release 2020's SA Banking Sector ESG Disclosures Ranking...
20 July 2021, Johannesburg: ESG (environmental, social, and governance) data analytics company, Risk Insights, today released the latest JSE Banking Sector ESG disclosure ranking scores.
For the purpose of this report, the JSE Banking Sector ESG disclosure performance for 2020 is compared to the 2019 financial year.

The disclosure rankings are based on TF-IDF  scores that are completely independent, they are used by investors, corporates, and other stakeholders to identify key ESG disclosure risks and opportunities for JSE listed companies. The Risk Insights ESG GPS database and rating platform are enriched with data for all JSE listed companies from 2016 to date, rated by sector for a particular financial year as well as adjusted during the year based on sentiment analysis. As listed companies integrated reports are published together with other voluntary and mandatory reports, ESG GPS uses an algorithm to gather and rate institutions. In addition, ESG GPS monitors companies all year round in terms of disclosed information and news and uses such information for rating actions during the year. The rating is complemented by share price changes, market capitalization changes, and sentiment analysis using news feeds, which provides a dynamic and real-time view of the companies' sustainability. ESG GPS ratings and disclosure reporting are embedded into strategy as a is always evolving and this is not a point in time statistic rating.
Anashrin Pillay, acting CEO of Risk Insights and Chief Commercial Officer ESG says, "ESG disclosure in the South African banking sector is a necessity rather than a "nice to have". Comparing 2019 disclosure to 2020 disclosure reveals that governance disclosure still comprises more than 80% of total disclosure on average for the banking sector for 2020. Social factors at ~10% where brand, reputation, and diversity play an important role still outweigh environmental disclosure at 7.5% for 2020 (7.4% in 2019). There is certainly room for improving disclosure given the new era of governance which includes focus on environmental and social factors."
Andrey Bogdanov, Principal at Risk Insights adds that "Leadership in the capital markets and public sector must pay attention to the S factor of ESG as it impacts the recent events of unrest in South Africa. Banks play a pivotal role in setting the standards for ESG for any country."
"What counts in life is not the mere fact that we have lived. It is what difference we have made to the lives of others that will determine the significance of the life we lead." Nelson Mandela.
The JSE Finance Sector constitutes 10% of the total market capitalization of all JSE listed companies, contributing 20% to GDP and 15.6% to employment. The research was conducted across the 8 banks listed on the JSE: Absa, Capitec, FirstRand, Nedbank, Rand Merchant Investment Holdings, Standard Bank, Investec, Finbond Group. Sustainability frameworks (CDP, GRI, etc), together with the laws of South Africa, were considered when curating the list of "B words " which forms the basis of the ESG-GPS rating model. A TF-IDF score for E, S & G is calculated for each bank which is then compared to the total score for the sector and expressed as a percentage.  
Environmental
Nedbank has maintained its top position as the leader for environmental disclosure. Standard Bank comes in second, whilst Investec is in 3rd position. The laggards are Capitec and Finbond Group. The banking sector average for environmental outcomes remains low at 7.5% in 2020 compared to 7.4% in 2019. This indicates that as a sector, the industry has further opportunity to develop this aspect in terms of broadening actionable environmental commitments and materiality disclosure.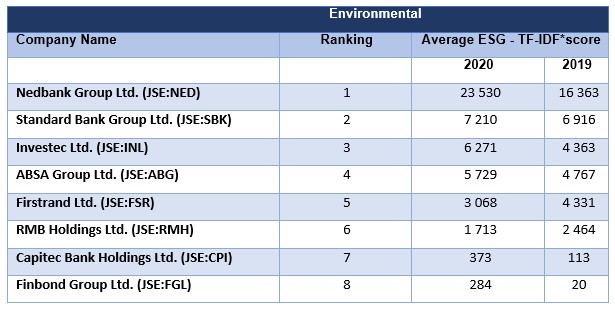 While climate change is an ongoing conversation and some banks have recently made public statements about intentions not to finance conflicted or sensitive projects – such as fossil fuels – the reality is that to date, much of this is just talk and not yet a firm commitment. This may be driven by a number of challenges that range from impact on projects underway to board and executive conflicts of interest regarding investment priorities. It is also based on the current structure of South Africa's access to energy sources. However, disclosure on environment banking strategies is very important and can be measured with the ESG GPS tool for all stakeholders going forward. Commitments can be monitored and tracked based on reporting.
Social
Nedbank is top-ranked in terms of social materiality, showing an improvement from 2019 to 2020 in terms of social disclosure. Standard Bank and Absa round out the top 3. Finbond Group and RMB Holdings are the laggards in the sector.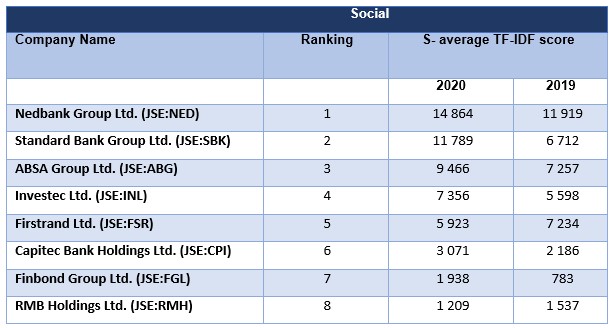 Governance
According to the 2020 rankings, Nedbank again has come out ahead of its peers in terms of governance, albeit its disclosure score declined when compared to 2019. Firstrand and Standard Bank are 2nd and 3rd respectively. Finbond Group and RMB Holdings are the laggards in this ESG segment. Governance being a fundamental pillar in the banking sector still makes up more than 80% of overall disclosure.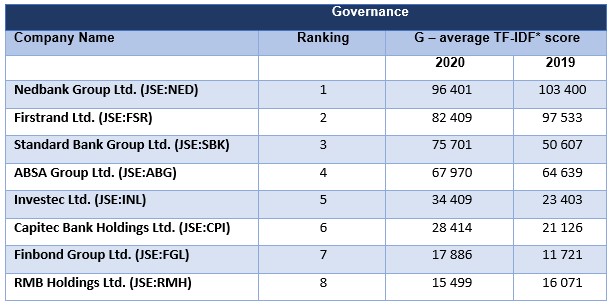 Risk Insights' acting CEO and Chief Commercial Officer ESG, Anashrin Pillay says, "Whilst governance in the Banking sector remains paramount, and it is no surprise, therefore, that the governance scores are highest in terms of overall ESG disclosure, more can be disclosed in terms of environmental and social disclosure. This is as stakeholder expectations continue to rise in this regard and is becoming critical to capital allocation."
An overarching bank disclosure ranking that considers all three ESG elements was compiled and the result was that overall, Nedbank ranked best in ESG in South Africa's banking sector. It was followed by Standard Bank and Firstrand. Finbond Group and RMB Holdings were the laggards, both with significant room to grow their ESG disclosure contribution. Disclosure rankings are a part of ESG GPS rating methodology.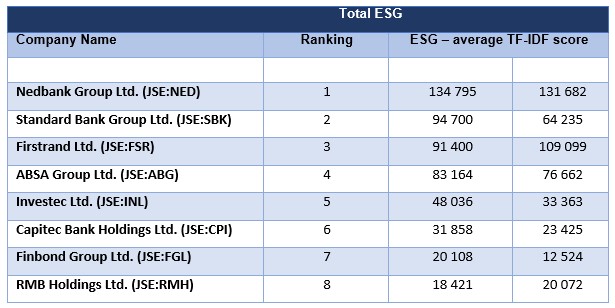 -ends-
About the Risk Insights ESG GPS Rating Tool
The Risk Insights ESG GPS rating tool uses publicly available data to produce an ESG Rating for each company listed on the JSE. Sustainability frameworks (CDP, GRI etc) together with the laws of South Africa are considered when curating the list of B'words which forms the basis of the ESG-GPS rating model. Artificial intelligence and machine learning algorithms are applied to transform the data collected into a TF-IDF score which represents the level of company disclosure on Environmental, Social and Governance factors. For more information regarding disclosure ratings of listed companies please visit us as www.riskinsights.co.za.
About Risk Insights
Risk Insights is a professional data analytics company that delivers sustainable solutions and products to its clients that is part of the World Economic Forum (WEF) New Champions Community. Risk Insights was founded in 2009 with the primary goal to assist in the improvement of risk management practices in South Africa and on the African continent. In November 2020, the company was awarded Excellence in Agile Business Governance award by the World Economic Forum. The singular focus of Risk Insights is to serve its clients with distinction and to support organizational transformation in order to unlock sustainable value creation for an organization. Risk Insights is an accredited Level 1 BEE Company.
About Instinctif Partners
Instinctif Partners is an international business communications consultancy, partnering with its clients to build reputation, combat risk and deliver value. Instinctif works with clients to engage multiple and complex audiences through deep insight, expert storytelling and creative delivery. For 25 years the company has used its local and global knowledge to address specific market issues across public relations, investor relations, ESG communications, reputation management and digital. Instinctif connects audiences, insights and creative to drive impact through real and measurable commercial value.  It is an accredited Level 1 BEE Company.